Vale touts collective future of operations
Vale executive gives update on progress of technology upgrades focusing on Sudbury mines.
Oct 5, 2018 11:15 AM by: Karen McKinley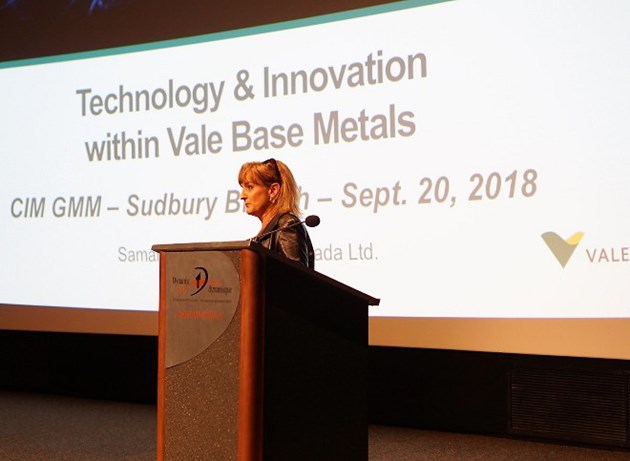 Samantha Espley, tech director, tech and innovation, mining and mineral processing at Vale Sudbury Operations, gave a presentation on the technological progress Vale is implementing at their operations in the city and internationally at the season opener of the Sudbury chapter of the Canadian Institute of Mining. (Photo supplied)
The hive mentality is coming to mining, with the intention of making the industry more efficient, safer and ultimately sustainable.
Vale Canada's progress in that area was the subject of the season opening meeting of the Sudbury chapter of the Canadian Institute of Mining on Sept. 20.
Samantha Espley, Vale's general manager of mines and mills, technical services department in Sudbury, gave the featured presentation on the company's road map for its operations.
The physical and technological changes are part of a grander plan to change the behaviour of how different sections work in the mines, bringing them together to work as one large hub, all sharing data to make operational decisions in real time.
"We have invested billions in our base metals operations over the last 10 years and most of this investment has been in the surface operations," Espley said.
She listed the innovations to be executed over the next three years and how they fit into the digital technology transformation.
Totten Mine in Sudbury has been the testing ground for many of these investments, Espley said.
Improvements include, what are known as, enabling technologies, such as fibre-optic backbone, wireless communications systems and ID tags for tracking personnel and equipment.
This not only streamlines communication, but allows operations to focus on specific areas for greater efficiency.
"With these innovations, we can monitor our air and ventilation, so air will be directed to where people and equipment are operating," Espley said. "Where there is nothing happening, the air is shut down."
She added it made sense for the right amount of air to go where it's needed most, rather than ventilate the entire mine and waste energy.
Totten Mine uses targeted ventilation, as well as an automated mobile fleet that operates in a designated area, including a scoop tram picking up ore at the pass and dumping it at the crusher.
However, this isn't a brand new innovation. INCO (acquired by Vale in 2006) was running automated trams back in the 1990's.
Other efficiencies they are working on include using sensors to sort and grade nickel and copper in the material on-site.
Espley said it's proving very useful in eliminating waste underground.
Vale is also looking at integrating their software programs currently being used to monitor and run different sections of mining operations. This will allow different areas to share data and monitor all aspects of the mine's day-to-day operations in real time.
In addition, the company is looking into using artificial intelligence to help guide decision-making and to tie into automated control systems. Algorithms will make decisions for them, but that doesn't mean they are completely taking humans out of the thought process.
Quite the opposite, according to Espley.
"For us, we want our employees to be involved, to be engaged, to bring solutions," she said. "It augments digital learning. We can use this to be more competitive, more sustainable. It will mean different types of jobs."
As a large employer for the region, Vale is moving ahead with these changes to help secure jobs for generations.
For example, Vale is investing more in automation in deep mining operations. This will actually help, because it has applications in areas where humans cannot go. Human operators will drive the vehicles remotely on surface.
With automation and more electric and battery-operated machines in the deeper operations, she said that will mean fewer ventilation costs.
Vale will be investing in tunneling machines similar to ones used to dig out transportation tunnels in Europe.
"This will be a new way to tunnel and access our ore zones and for potential use in production mining in some of our mines. In these applications, we would not need explosives," Espley said.
Source linked from NORTHERN ONTARIO Business https://www.northernontariobusiness.com/regional-news/sudbury/vale-touts-collective-future-of-operations-1069852