The Sudbury Star – October 16, 2016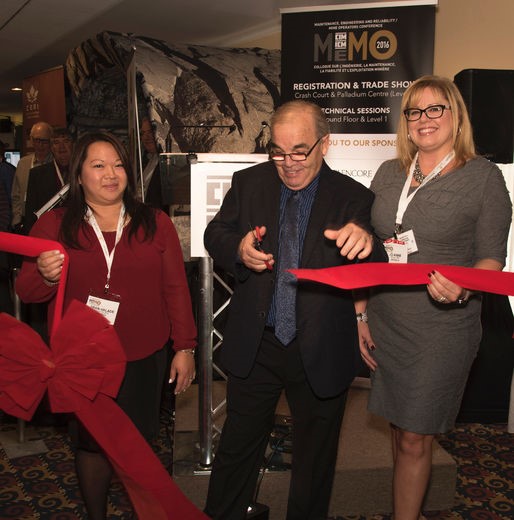 Trang Tran-Valade, left, deputy mayor Al Sizer and Jo-Anne Boucher officially launch the MeMO conference at the Radisson Hotel on Sunday.(Mary Katherine Keown/Sudbury Star)
The miners are coming. Sudbury is playing host for the next few days to about 500 delegates of the Maintenance, Engineering and Reliability Mine Operators conference, underway at the Radisson hotel. Sudbury often hosts mining conferences, which makes sense when you consider that more than 16,000 people throughout the city work in the sector.
"I can't think of a better place to host an event like this than the community of Greater Sudbury," deputy mayor and Ward 8 Coun. Al Sizer said Sunday. "We are Canada's mining capital – mining, environmental rehabilitation and mining supply and service are the cornerstones of our local economy. Together, the mining companies, along with the mining supply and service industry here in Sudbury, employ more than 16,000 people."
Sizer also pointed out that Sudbury's three post-secondary institutions train students to work in the sector. They go onto make careers across the country.
"Few industries are as deeply woven into the fabric of Canada's economy as the mining sector, yet many Canadians do not realize we are a major mining country and a top 10 global producer of 17 metals and minerals or that the sector employs some 320,000 people."
Trang Tran-Valade and Jo-Anne Boucher, the general co-chairs of the conference, helped organize this year's gathering to enable networking, learning opportunities and the sharing of best practices.
"It's an opportunity to share best practices and knowledge, and to participate in a technical program and a plenary session," Boucher said. "There's also a trade show. There are 30 companies represented. Some are coming from all over Canada."
Tran-Valade said that in today's economy, the conference is also focused on working during – and surviving – the down times. "What can they do to improve their operations, to reduce costs and improve their efficiencies so that they are coming through this economy a little bit better," she said.
Boucher is keen to see delegates share best practices and knowledge on new innovations and new technologies in the mining sector. "It's a great opportunity for all of the participants and delegates to network with their peers in the industry," she added. "There are 500 people here participating at MeMO, including 300 delegates, so it's a great gathering of minds."
Those in the industry came from all over. There was a sizeable delegation from West Africa, including Inna Guenda-Segueda, who spent hours in transit travelling from her home in Burkina Faso. "I'm from the Burkina Chamber of Mines, which is an association of the mining companies in Burkina Faso," she said. "We have nine operating mines, mainly in gold and one in zinc. There may be a manganese mine to come and we're building five mines. So it's a big market with a lot of opportunity for suppliers."
Only about 8,000 people work directly in the mines in Burkina Faso, but when you consider all the suppliers and outfitters, that number is multiplied by a factor of four to eight, Guenda-Segueda said.
"We are really lucky in Burkina Faso, we have big companies operating," she said. "They all respect environmental standards, security and safety standards, so it's not dangerous. We have a very clean and good mining sector. Everyone in Burkina is looking to work in the mining sector. There's a big demand. When you say you work in the mining sector, everybody is like, wow."
Gold is the country's largest export and accounts for 12 per cent of the country's GDP. Those exports are worth 168 billion communaute financiere Africaine francs (CFA francs), or about USD 281 million.
"Every year we export 36 tonnes of gold. Back in 2008, it was only five tonnes," Guenda-Segueda said. "Less than nine years later, it's 36 tonnes. That's huge for our small country."
Guenda-Segueda said she was looking forward to networking, so that suppliers from Sudbury can learn how they can co-operate and work with business people in Burkina Faso. "We want to learn how to create sustainable relationships between business men from Sudbury and those in Burkina Faso," she said. To learn more, go to memo2016.cim.org.
Source linked from http://www.thesudburystar.com/2016/10/16/gathering-of-minds-at-mining-conference