WISE (Women In Science & Engineering – Sudbury) May 14, 2015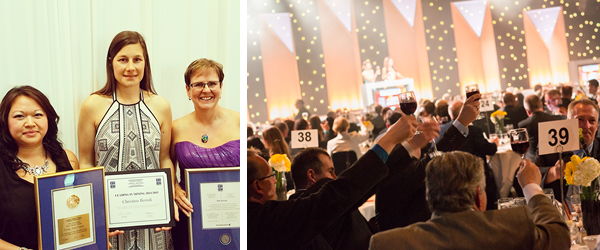 The Canadian Institute of Mining hosted its annual Award Gala on Tuesday in Montréal, celebrating the leaders in the Canadian mining industry. WISE Sudbury members were present among those recognized for excellence in a specific discipline, an exemplary safety accomplishment or giving back to the mining industry or community.
Sue Tessier, P.Eng. was recognized with the CIM Community Service Award. Sue volunteers her time with a number of organizations, including WISE Sudbury, CIM Sudbury, GO Eng Girl, and the Sudbury Regional Science Fair. This award recognizes unsung heroes for their contributions to the mining industry.
Trang Tan-Valade, P.Eng. PMP was bestowed the CIM Presidents' Role Model Medal. Trang, the director of strategic innovations for BESTECH, is involved in a number of capacities in the mining industry including as the current chair of the CIM Sudbury Branch. Her contributions have helped the branch function, attract new executive members, and thrive through economic cycles. She is an active member of Women in Science and Engineering (WISE) Sudbury Chapter and a volunteer coach in both youth basketball and soccer.This award recognizes her outstanding efforts as a role model in the mining community.
Northern Ontario winners also include Christine Bertoli who is the recipient of the CIM-Bedford Canadian Young Mining Leaders Award. Christine is the chief mine engineer of Nickel Rim South Mine for Sudbury Integrated Nickel Operations. She has been part of CIM Sudbury Branch executive since 2005 and in 2012 was selected by her company to participate in Women's Executive Network™ mentoring program, the country's leading organization dedicated to the advancement and recognition of executive-minded women in the workplace. The Canadian Young Mining Leaders Award encourages and accelerates the development of leadership in Canadian mining by recognizing outstanding achievement and potential of young Canadian mining leaders.
Source linked from https://wisesudbury.ca/2015/05/14/wise-members-honoured-at-cim-awards/