IAMGOLD project manager talks progress, latest findings at planned Gogama-area gold mine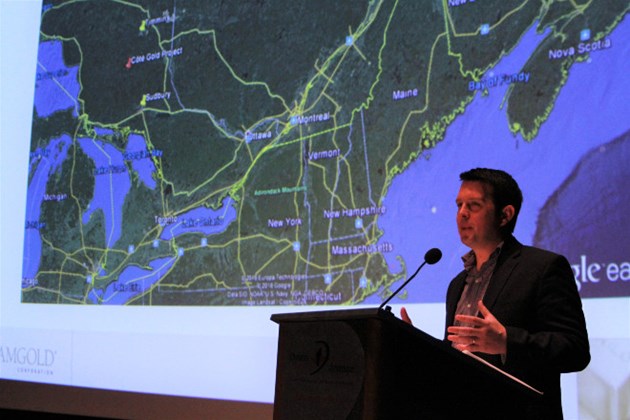 Steven Bowles, manager of the Cote Gold Project, a joint venture by IAMGOLD Corporation and Sumitomo Metal Mining Co., gave a presentation of the latest updates at the Cote Gold project, a mid-grade gold deposit located 20 km southwest of Gogama, Ont.
If all goes well, there could be an open-pit gold mine near Gogama by the year 2021.
And the project manager with IAMGOLD credits their progress to careful planning, doing their due diligence, and successful negotiations with neighbouring communities.
Steven Bowles gave a presentation on the progress of the project at the monthly Sudbury chapter of the Canadian Institute of Mining on March 22 at Dynamic Earth.
He told a packed house the company and its partner Sumitomo Metal Mining Co., are pleased with their progress and findings and are getting a lot of interest from companies hoping to be a part of the project.
His talk on the Côté Project started with the company's mandate to be a world leader in health in safety.
"We have a zero harm policy," he said. "We want to develop a mindset where health and safety are our core values and we apply that in not only our work but in everything we do."
He was quick to also thank the leaders of Mattagami and Flying Post First Nations for their support in moving the project along and having constructive negotiations. They are also involved in consultation with the Metis Nation of Ontario.
These are important to the company, he said, as the project has the potential to inject up to $1.5 billion into the First Nations communities. They acknowledge that will have a profound impact on the area, with jobs and infrastructure and a fast rate of change.
While IAMGOLD is keen to have members of those communities working on the project, he said there isn't a large population to draw a workforce from.
"Coming in from an international background, it's interesting for me coming into Ontario because people want things to happen," he said. "It doesn't matter what group or organization we are from, we tend to support mining initiatives because they inject a lot of value into the communities."
Located in an area known more for fishing than mining, the Côté Gold Project is located southwest of the community of Gogama and five kilometres west of Highway 144. It's roughly situated halfway between Timmins (130 km to the north) and Sudbury (200 km to the south).
Bowles pointed out they received approval from the Canadian Environment Assessment Agency in 2016, as well as approval from the Ministry of Environment and Climate Change the same year.
Site plans for the open-pit involve draining a lake. They are also taking monthly water samples and will continue to do so over the years.
The project is classified as a low to mid-grade gold deposit with some copper mineralization. Over an estimated 17-year mine life, the grade will average 0.9 grams per tonne gold with an annual production of 320,000 ounces over that span. Open-pit mining operations are estimated to have a throughput rate of approximately 30,000 tonnes per day.
With power connections at the Hydro One substation 45 kilometres away at Shining Tree, the company will have to construct a connection to support the operation.
The Côté region has been of interest to various companies and government agencies since the early 1900's. Trelawney Mining and Exploration had been exploring the area since 2009 and diamond drilling since 2010 to delineate the gold deposit. IAMGOLD picked up the property in 2012 when it acquired Trelawney.
At the time of the purchase, gold prices were attractive, Bowles said. Originally, the company bought the project to enhance the size of the operation with an eye on starting a 60,000-tonne-per day operation.
Then the price of gold tumbled, causing the company to step back and re-assess the area's mineral wealth.
Since then, gold prices have rebounded to make it a profitable venture again. In 2017, they were approached by Sumitomo to become a 30 per cent partner on the project.
"Between 2012 and today, we've taken important steps in terms of setting ourselves up for developing Côté today," Bowles said.
The pre-feasibility study was reinitiated which cleared the way for the company to start a feasibility study, expected to be completed by the end of this year. Mine construction starts sometime next year.
Diamond drilling has increased resources to where the attributable indicated and inferred resources at Côté are now 5.2 million ounces and 0.8 million ounces, respectively. 
"That helped us to build a stronger mine plan and longer mine life," Bowles said.
**Source linked from https://www.northernontariobusiness.com/top-stories/high-hopes-for-cote-gold-project-874363