Sudbury.com - June 8, 2015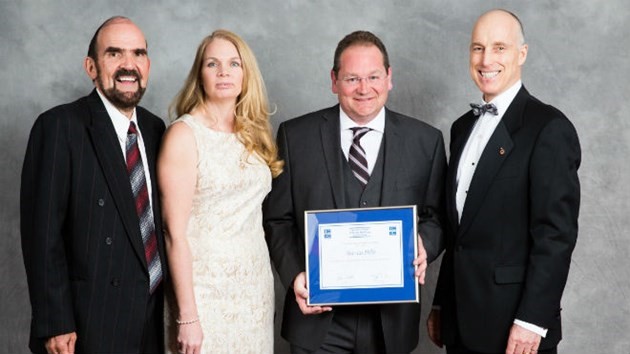 Left to right: Peter Edmunds, senior advisor for Atlas Copco, the sponsor for the CIM Distinguished Lecturer Awards, Janice Zinck, past CIM Distinguished Lecturer, Laurentian University's Dean Millar, CIM Distinguished Lecturer, and Sean Waller, outgoing CIM president. Supplied photo.
Laurentian University professor Dean Millar was named a distinguished lecturer at a national awards gala last month. The professor at Laurentian's Bharti School of Engineering and Director of Energy, Renewables and Carbon Management at MIRARCO was one of only five award winners honoured by the Canadian Institute of Mining, Metallurgy and Petroleum (CIM) at the national gala in Montreal.
Millar is a leading researcher on energy management, energy efficiency and renewable energy in mining. His presentation for the CIM Distinguished Lecturer program, "The Journey to the 40% Mine," explores market-ready technologies and innovations in mining that can support a sector-wide reduction of 40 per cent in primary energy consumption by 2040.
CIM Distinguished Lecturers are selected for their accomplishments in scientific, technical, management or educational activities in the minerals industries and are available to speak at CIM Branch and Student Chapter meetings across Canada. "I am honoured by this recognition and pleased to accept this award," said Millar. "It is a reflection of the valuable contributions of all those who work in MIRARCO's Energy Renewables and Carbon Management group."
Source linked from https://www.sudbury.com/local-news/laurentian-professor-named-distinguished-lecturer-by-cim-255874