In light of current events, some of the events below have been cancelled or postponed. If you have any questions about a specific event, please contact us at toronto@cim.org. Thank you.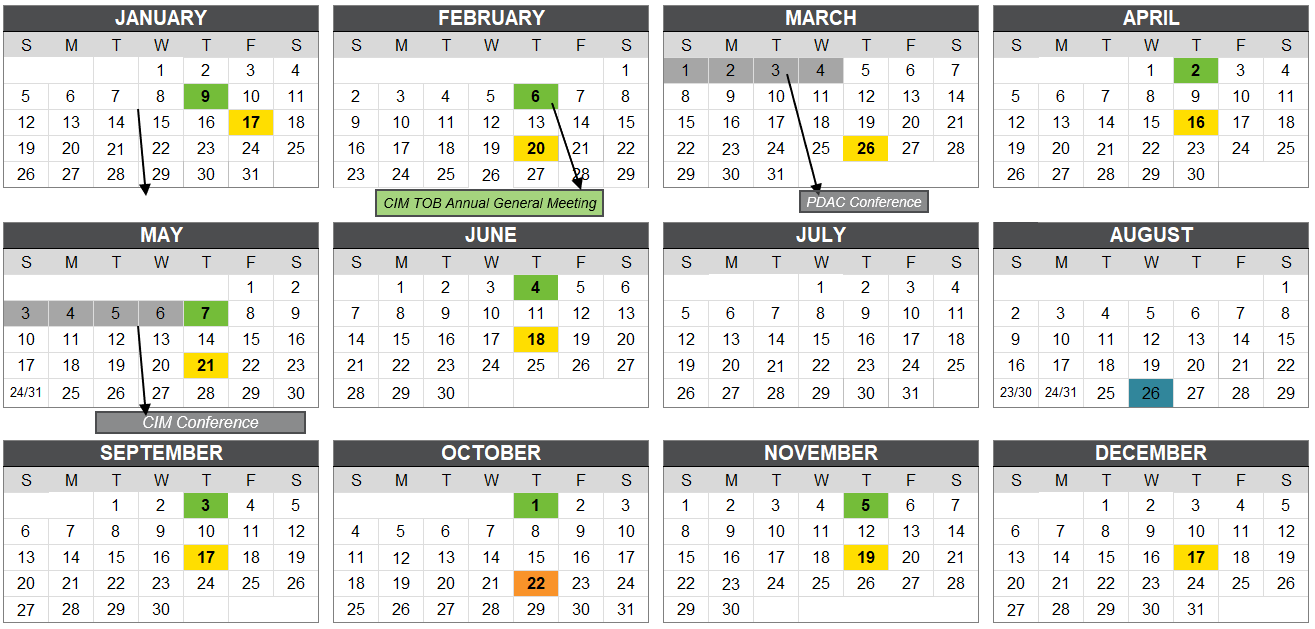 Monthly Luncheons are hosted from September to June, 12 noon to 2: p.m. which includes a networking reception, 3 course meal, and a guest speaker on a subject of interest. In December & June it will be a late afternoon networking reception. Everyone is welcome. Join us and be part of this excellent networking opportunity.
Student Events Funds raised through the many CIM Toronto Branch activities and sponsorships go to support students, including the following events: January 17 - MES Career Showcase and CIM TOB Student-Industry Lunch; October 22 - Grubstake Networking Event.
Rocks & Stocks Professional Development On October 22, MES and CIM Toronto Branch host a day, 8 a.m. to 4:30 p.m, of learning, interaction and networking reviewing a relevant topic to the industry. Afterwards, join us at the annual Grubstake reception for further networking.
Grubstake Networking Event On October 22, come to the CIM Toronto Branch Grubstake Networking Event, a networking reception, to meet and greet as we all get back in the swing after the summer and a chance to meet the next generation, from 4:30 p.m. to 7:30 p.m.
Frank Grieco Golf Tournament Day The fall is a special opportunity for networking and fun. Don't miss our Frank Grieco Golf Tournament at the  Glen Abbey Golf Course on August 26, 2020.
Join the CIM Toronto Branch Executive For the ultimate networking experience, consider joining the CIM Toronto Branch Executive Team. The Executive Meetings are typically held the first Thursday of the month from 12:00 noon to 2:00 p.m.
Sponsorship If you want to reach an audience of 100 mineral industry people each month, consider sponsoring a luncheon reception or any of our other events, such as the Golf Day or the Student Events.
Contact Us CIM Toronto Branch | toronto@cim.org | branches.cim.org/toronto